Overview
This library is written in JavaScript and contains everything to add a clickable overlay or any content that you want to add on top of your "
interactive video
".
To comunicate with the interactive video (i.e the engine), the content context uses a
adways.content.HVBridge
singleton named adways.hvBridgePool.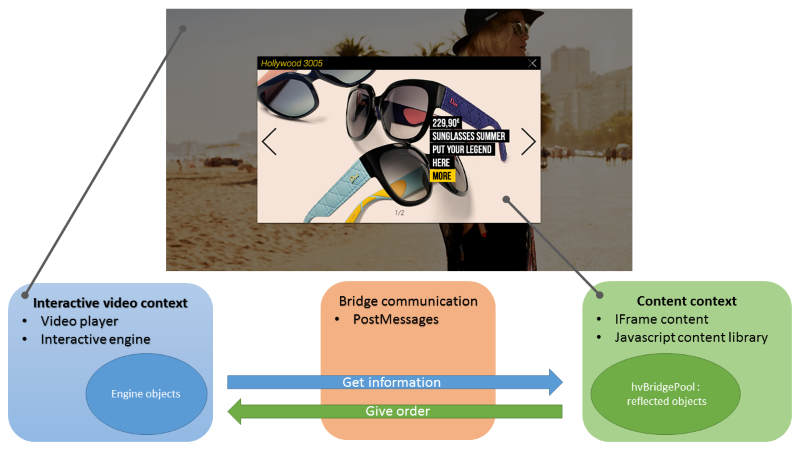 This singleton represents a pool of communication bridges between the content and the interactive engine/main video. Since a content of an enrichment is generally instanciated in a iframe, there is a need for a mechanism that establish a bidirectionnal communication between the interactive engine entities and the content. Currently, the entities controlable from within the content are:
the main video (play, pause, seek to, playhead time, etc.)
the enrichments (open, close, etc.)
the scene
But the list is going to growth regularly.
Each of these objects has a "mirror" one inside the content that reflects its state and let you calling methods on it, in the same way as you generally call a method on an object. The mirror is reponsible of:
correctly transmitting the order by automatically choosing the best way yo achieve this (with the "messaging" API as an exemple).
bringing you its states (whether the current enrichment is opened or not, etc)

Example : How to instantiate the adways.content.HVBridge singleton and communicate with the interactive video engine
First of all, Adwayslib.js must be included

<script src="//d1xswutoby7io3.cloudfront.net/content/js/Adways-content/1.0.0/release.Adways-min.js"></script>

To start a communication between the engine (the interactive video) and the content, the bridge must be connected
    
/* 
 * Check if adways.hvBridge is ready. 
 * If adways.hvBridge is not ready add an adways.hv.bridge.events.READY event listener 
 */
if (adways.hvBridge.isReady()) 
    hvBridgeReadyCB();
else
    adways.hvBridge.addEventListener(adways.hv.bridge.events.READY, hvBridgeReadyCB);

Once the bridge is ready, the connection with the enrichement can be established
    
/* Get enrichment state and interact with it */
var enrichment = adways.hvBridge.getCurrentEnrichment();

/*
 * If enrichment is not connected then add an adways.hv.bridge.events.CONNECTED event listener
 * and connect it.
 */   
var enrichmentConnectedCB = function () {
    console.log("enrichment connected");

/* Get enrichment current activation state (openned or closed) */
    enrichment.getActivated().addEventListener(adways.type.evt.BOOLEAN, function(e){
        /* Here, activation state can be accessed by the disptacher of the event : */
        console.log("is activated (dispatcher method) : "+e.getDispatcher().valueOf());

        /* or, directly by the enrichment getActivated method */  
        console.log("is activated (getActivated method) : "+enrichment.getActivated().valueOf());
    });    
    /* method to close the enrichment */
    enrichment.close();
};
if(enrichment.isConnected()) 
    enrichmentConnectedCB();  
else {
    enrichment.addEventListener(adways.hv.bridge.events.CONNECTED, enrichmentConnectedCB);
    enrichment.connect();
} 

Connection with content can be established
    
/* Get content state and interact with it */
var content = adways.hvBridge.getCurrentContent();

/*
 * If content is not connected then add an adways.hv.bridge.events.CONNECTED event listener
 * and connect it.
 */   
var contentConnectedCB = function () {
    console.log("content connected");
};
if(content.isConnected()) 
    contentConnectedCB();  
else {
    content.addEventListener(adways.hv.bridge.events.CONNECTED, contentConnectedCB);
    content.connect();
} 

Connection with P2S SceneController can be established to get video state
    
/* Get video state */
var p2s = adways.hvBridge.getP2S();

/*
 * If p2s is not connected then add an adways.hv.bridge.events.CONNECTED event listener
 * and connect it.
 */ 
var p2sConnectedCB = function () {
    console.log("p2s connected");

    /* get video current time */
    p2s.addEventListener(adways.resource.events.CURRENT_TIME_CHANGED,  function(e){
        /* Here, current time can be accessed by the disptacher of the event : */
        console.log("current time (dispatcher method) : "+e.getDispatcher().getCurrentTime().valueOf());
        /* or, directly by the SceneController getCurrentTime method */  
        console.log("current time (getCurrentTime method) : "+p2s.getCurrentTime().valueOf());
    });
    
    /* get video current play state */
    p2s.addEventListener(adways.resource.events.PLAY_STATE_CHANGED,  function(e){
        /* Here, playstate can be accessed by the disptacher of the event : */
        console.log("play state (dispatcher method) : "+e.getDispatcher().getPlayState().valueOf());
        /* or, directly by the SceneController getPlayState method */  
        console.log("play state (getPlayState method) : "+p2s.getPlayState().valueOf());
        /* 
         * Both return adways.resource.playStates.PLAYING when video is playing  
         * and adways.resource.playStates.PAUSE when video is paused
         */
    });
};
if(p2s.isConnected()) 
    p2sConnectedCB();  
else {
    p2s.addEventListener(adways.hv.bridge.events.CONNECTED, p2sConnectedCB);
    p2s.connect();
}   

Connection with S2P SceneController can be established to interact with video
    
/* Interact with video */
var s2p = adways.hvBridge.getS2P();

/*
 * If s2p is not connected then add an adways.hv.bridge.events.CONNECTED event listener
 * and connect it.
 */ 
var s2pConnectedCB = function () {
    console.log("s2p connected");

    /* seek to 10 seconds */
    s2p.setCurrentTime(10, true);
    
    /* Play video */
    s2p.play(true);
    
    /* Pause video */
    s2p.pause(true);
};
if(s2p.isConnected()) 
    s2pConnectedCB();  
else {
    s2p.addEventListener(adways.hv.bridge.events.CONNECTED, s2pConnectedCB);
    s2p.connect();
}   

Here is the full sample demo
    

<script src="[PATH_TO_ADWAYSLIB.JS]"></script>

<script>
var hvBridgeReadyCB = function () {     
    /* Get enrichment state and interact with it */
    var enrichment = adways.hvBridge.getCurrentEnrichment();

    /*
     * If enrichment is not connected then add an adways.hv.bridge.events.CONNECTED event listener
     * and connect it.
     */   
    var enrichmentConnectedCB = function () {
        console.log("enrichment connected");

        /* Get enrichment current activation state (openned or closed) */
        enrichment.getActivated().addEventListener(adways.type.evt.BOOLEAN, function(e){
            /* Here, activation state can be accessed by the disptacher of the event : */
            console.log("is activated (dispatcher method) : "+e.getDispatcher().valueOf());

            /* or, directly by the enrichment getActivated method */  
            console.log("is activated (getActivated method) : "+enrichment.getActivated().valueOf());
        });    
        /* method to close the enrichment */
        enrichment.close(); 
    };
    if(enrichment.isConnected()) 
        enrichmentConnectedCB();  
    else {
        enrichment.addEventListener(adways.hv.bridge.events.CONNECTED, enrichmentConnectedCB);
        enrichment.connect();
    } 

    /* Get content state and interact with it */
    var content = adways.hvBridge.getCurrentContent();

    /*
     * If content is not connected then add an adways.hv.bridge.events.CONNECTED event listener
     * and connect it.
     */   
    var contentConnectedCB = function () {
        console.log("content connected");
    };
    if(content.isConnected()) 
        contentConnectedCB();  
    else {
        content.addEventListener(adways.hv.bridge.events.CONNECTED, contentConnectedCB);
        content.connect();
    } 

    /* Get video state */
    var p2s = adways.hvBridge.getP2S();

    /*
     * If p2s is not connected then add an adways.hv.bridge.events.CONNECTED event listener
     * and connect it.
     */ 
    var p2sConnectedCB = function () {
        console.log("p2s connected");

        /* get video current time */
        p2s.addEventListener(adways.resource.events.CURRENT_TIME_CHANGED,  function(e){
            /* Here, current time can be accessed by the disptacher of the event : */
            console.log("current time (dispatcher) : "+e.getDispatcher().getCurrentTime().valueOf());
            /* or, directly by the SceneController getCurrentTime method */  
            console.log("current time (getCurrentTime) : "+p2s.getCurrentTime().valueOf());
        });

        /* get video current play state */
        p2s.addEventListener(adways.resource.events.PLAY_STATE_CHANGED,  function(e){
            /* Here, playstate can be accessed by the disptacher of the event : */
            console.log("play state (dispatcher method) : "+e.getDispatcher().getPlayState().valueOf());
            /* or, directly by the SceneController getPlayState method */  
            console.log("play state (getPlayState method) : "+p2s.getPlayState().valueOf());
            /* 
             * Both return adways.resource.playStates.PLAYING when video is playing  
             * and adways.resource.playStates.PAUSE when video is paused
             */
        });
    };

    if(p2s.isConnected()) 
        p2sConnectedCB();  
    else {
        p2s.addEventListener(adways.hv.bridge.events.CONNECTED, p2sConnectedCB);
        p2s.connect();
    }   
  
    /* Interact with video */
    var s2p = adways.hvBridge.getS2P();

    /*
     * If s2p is not connected then add an adways.hv.bridge.events.CONNECTED event listener
     * and connect it.
     */ 
    var s2pConnectedCB = function () {
        console.log("s2p connected");

        /* seek to 10 seconds */
        s2p.setCurrentTime(10, true);

        /* Play video */
        s2p.play(true);

        /* Pause video */
        s2p.pause(true);
    };
    if(s2p.isConnected()) 
        s2pConnectedCB();  
    else {
        s2p.addEventListener(adways.hv.bridge.events.CONNECTED, s2pConnectedCB);
        s2p.connect();
    }   
}

/* 
 * Check if adways.hvBridge is ready. 
 * If adways.hvBridge is not ready add an adways.hv.bridge.events.READY event listener 
 */
if (adways.hvBridge.isReady()) 
    hvBridgeReadyCB();
else
    adways.hvBridge.addEventListener(adways.hv.bridge.events.READY, hvBridgeReadyCB);
</script>